HYDERABAD: In a bid to improve air connectivity, the Telangana authorities has sought the assist of Airports Authority of India (AAI) to present a detailed  challenge  report,  which includes aeronautical survey and feasible options, for development of six airports — three greenfield and three brownfield — within the state.
The state authorities has been making efforts to expand airports at Mamnoor, about 10 km from Warangal, Kothagudem and Adilabad district headquarters. Three  extra  airports  had been proposed at Basanthnagar in Peddapally district, Jakranpally in Nizamabad and Gudibanda in Mahbubnagar.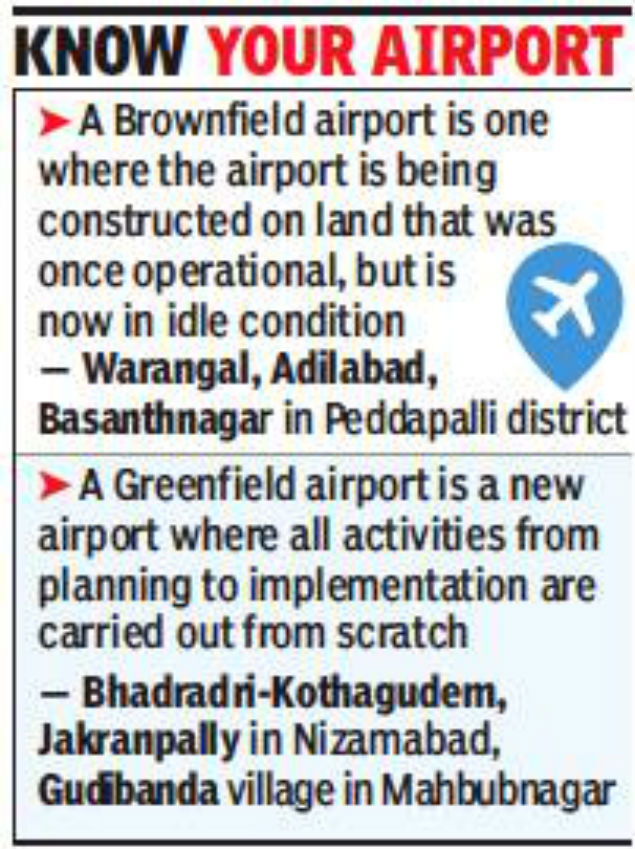 "Preliminary studies have indicated that three proposed airports at Warangal, Adilabad and Kothagudem are feasible. Three more have been added for better air connectivity in the state," a senior official of the industries department said. The AAI has been asked to indicate whether development of airports should be taken up under public private partnership (PPP) or developed by the state government or any agency by floating tenders.
Official sources said the Union ministry of defence was keen on developing Adilabad airport, where about 350 acres of land was available and another 600 acres would be required. "Since Adilabad is strategically and centrally located in the country, the MoD said they will use it and also allow civilian flight operations too. However, the state government is not willing to give it to the MoD as it may impose restrictions on operations," sources in the government said.
AAI has already evinced interest in developing the Warangal airport. While 429 acres of land is available, AAI has stated some other four hundred acres might be required for a new airport. The officials stated, as per the settlement with GMR, the  country  government  can't develop every other airport within 150 km radius i.E. Warnagal. Despite requests from the state government to present no objection for growing an airport at Warangal, GMR Group, which has advanced and operates Rajiv Gandhi International Airport at Shamshabad, changed into reluctant to permit any airport within a hundred and fifty km radius. The government, however ,was giving utmost precedence for Warangal airport as a mega textile park became established inside the district.
To triumph over the 150-km hurdle, AAI has recognized an airstrip, approximately 157 km from Shamshabad, and there has been no need to gain NoC from GMR Hyderabad Airport Limited. Kothagudem airport had in advance landed in troubles as 1,120  acres  diagnosed  for the motive was discovered to be in the natural world area and the Centre refused to component with it. Now, the district administration has diagnosed alternative land.
Director of aviation, infrastructure and investment department, VN Bharat Reddy said the government was planning to develop both brown and greenfield airports.